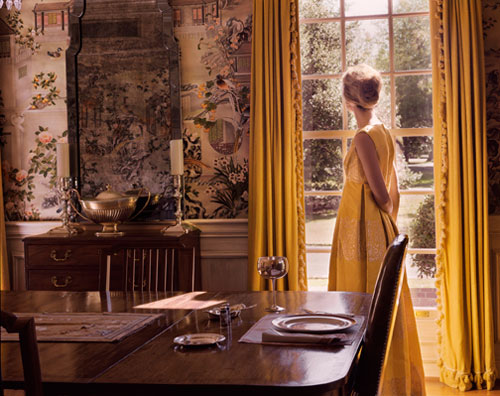 Danielle Nelson Mourning: Homecoming
May 22 – June 26, 2010
Taylor De Cordoba is proud to present Homecoming, photographs and film by San Francisco-based artist Danielle Nelson Mourning. The exhibition will run from May 22 – June 26, 2010, with an opening reception for the artist on Saturday, May 22 from 6 – 8PM.
For the artist's solo debut at Taylor De Cordoba, Mourning will exhibit films and strikingly vivid ink jet photographs taken in areas laden with her family history. Traveling between Niagara Falls, New York and Marks, Mississippi the artist staged a series of primarily self-portraits wherein she slips in and out of the homes, attire and settings of her relatives. A desire to surround herself with family lore, which she had only seen in snapshots and heard in oft-repeated stories, motivated her desire to recreate/create this history. The resulting photographs inhabit an eerie space between real and fake. She plays many characters: a 1950s housewife; a1960s wife on the eve of the sexual revolution; and a 1970s liberated woman, with the mood moving from Alfred Hitchcock to John Cassavetes and back again. While at first glance it appears as though the photographs were taken during those past eras, there is something knowing in the artist's eye, or perhaps her stance, that reminds viewers of the current historical moment.
The work goes deeper in the series of images Mourning staged in Ireland, an interpretation of her Irish ancestry during the potato famine of 1845. Here, she dresses in attire from the day and situates herself in the landscape of her ancestors. This became a psychological experience for the artist, who felt the boundaries between past and personal history eroding.
Alongside the photographs, the gallery will be exhibiting the artist's intimate 8mm film, made on location in New York and Mississippi. The photographs come to life here, as the viewer recognizes Mourning's characters moving about perfectly manicured rooms and landscapes. She complements the moving images with a soundtrack of taped conversations with her grandmother. The resulting effect is strange, haunting and timeless.