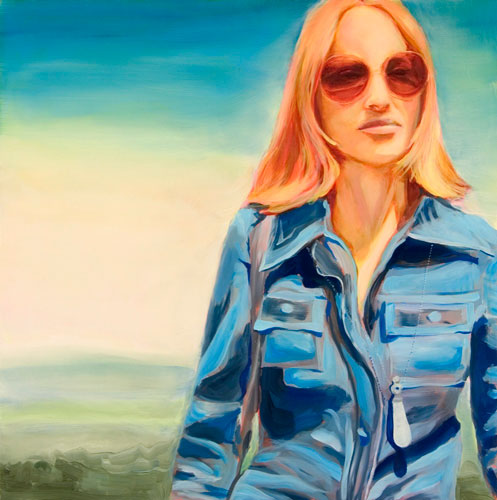 Kimberly Brooks: Mom's Friends
March 3 – April 7, 2007
Taylor De Cordoba is pleased to present Mom's Friends, a solo exhibition by Los Angeles-based artist Kimberly Brooks. The exhibition will run from March 3rd thru April 7th, 2007. The gallery will host an opening reception for the artist on Saturday March 3rd from 6pm-9pm.
In her first solo exhibition at Taylor De Cordoba, Kimberly Brooks explores issues of feminine identity, nostalgia, idolization and womanhood. She introduces the women she literally looked up to as a child, "Mom's Friends." The show will feature gouache studies and oil paintings depicting the women who helped to form her own identity while growing up in Marin County in the late 1970's.
In the wake of the Sexual Revolution, the model of a modern woman was taking shape. Brooks paints sexy, confident and stylish women in their element: cooling their feet in the pool, waiting at the train station, contemplating amidst the woods of Big Sur and laughing at parties. She invokes the fashions of the time with her representations of luscious furs, bold patterns, oversize sunglasses and unique flea market finds. In the span of a few years, nearly all of these women in her mom's circle of friends would find themselves divorced as a result infidelity, boredom and the need to establish their own identities. Brooks uses her own personal memories and photographs to re-create the harmonious and utopian moment just before it all came crashing down. The artist takes cues from traditional portraiture, fashion photography, 1970s Polaroids and today's ubiquitous candid celebrity snapshots to create her modern style.
Kimberly Brooks' work has been featured in numerous juried exhibitions organized by curators from the Whitney Museum of American Art, Museum of Modern Art and California Institute of the Arts among others. Brooks earned her B.A. from UC Berkeley and trained in fine arts at Otis College of Design and UCLA.