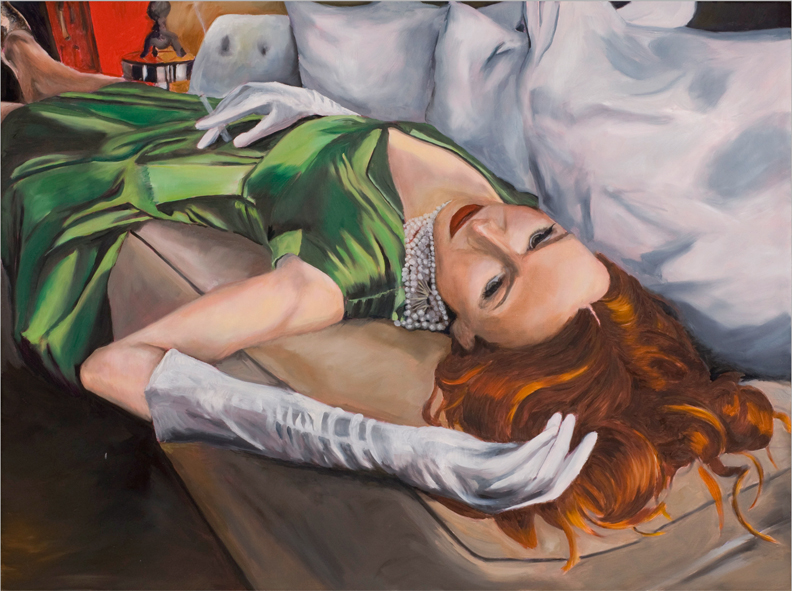 Kimberly Brooks: The Stylist Project
February 27 – April 3, 2010
Taylor De Cordoba is pleased to present The Stylist Project, a solo exhibition of new oil paintings by Los Angeles-based artist Kimberly Brooks. The exhibition will run from February 27 – April 3. The gallery will host an opening reception for the artist on Saturday, February 27th from 6pm-8pm.
The Stylist Project is the first in a series of portraits of renowned stylists and fashion industry insiders who have styled themselves and posed for the artist. After delving into deeply personal subject matter for her last two exhibitions – "Mom's Friends" in 2007 and "Technicolor Summer" in 2008 – Brooks shifts her focus outward with this new body of work. Here, she broaches the red-hot themes of fashion, style and those omnisciently responsible for setting the trends.
This exhibition features portraits of LA's most influential style-makers including celebrity stylist Rachel Zoe; costume designer and Madonna's personal stylist Arianne Phillips; New York Times stylist Elizabeth Stewart and Mad Men costume designer Janie Bryant, among others. While many of the stylists are unknown to the general public, this work turns the spotlight on them, raising questions about who is really in charge of what wear and how we choose to present ourselves. Brooks' paintings portray a dynamic exchange between two artists: the painter and the stylists — both of whom use various props, settings, lighting, fashion and accessories to set the canvas' stage.
Kimberly Brooks' work has been featured in numerous juried exhibitions organized by curators from the Whitney Museum of American Art and the Museum of Modern Art. Her work has been featured in the Los Angeles Times, Art Ltd., The Huffington Post, Vanity Fair, Elle, C Magazine among other publications.
For additional information and images, please contact Heather Taylor at 310-559-9156 or heather@taylordecordoba.com. Taylor De Cordoba is located at 2660 South La Cienega Blvd., Los Angeles, CA 90034.