Archive for November, 2011
Tuesday, November 29th, 2011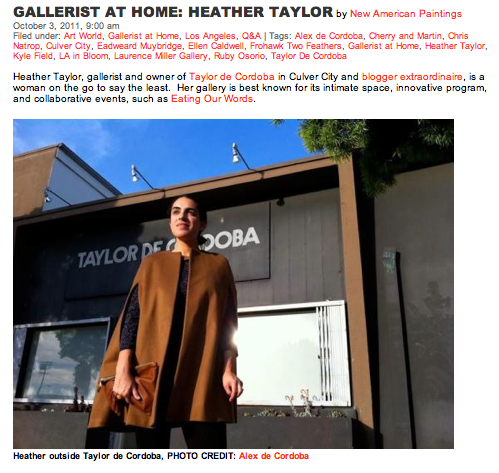 Gallery owner Heather Taylor is interviewed for "Gallerist at Home," by Ellen Caldwell for New American Paintings.
"Heather Taylor, gallerist and owner of Taylor De Cordoba in Culver City and blogger extraordinaire, is a woman on the go to say the least.  Her gallery is best known for its intimate space, innovative program, and collaborative events, such as Eating Our Words.
The gallery is home to both established and up-and-coming artists, and is an inviting space for art lovers and novices alike.  Much like the gallery she has cultivated, Heather's home is a place of particular peace and beauty.  Art hangs against earth-toned walls and amongst beautiful textiles and vignettes of cozy collectibles.I sat down with Heather to find out the back-stories behind some of her favorite art that hangs in her own personal space…"
Click HERE to read the complete article.