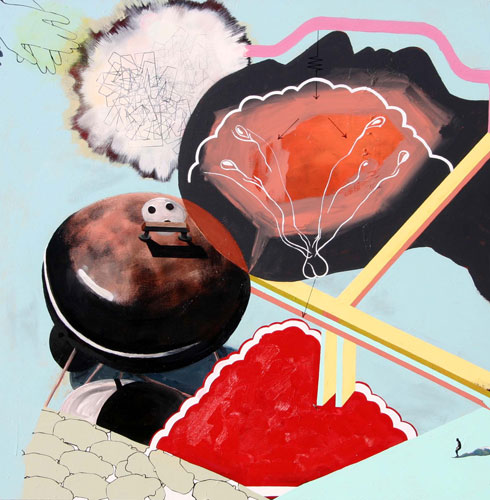 Ryan Callis: HOW IT FEELS TO BE SOMETHING ON
April 15th-May 13th, 2006
Taylor De Cordoba is pleased to present HOW IT FEELS TO BE SOMETHING ON, the latest body of work by Los Angeles based painter, Ryan Callis. HOW IT FEELS TO BE SOMETHING ON marks the inaugural exhibition for Taylor De Cordoba, a contemporary art gallery in Culver City.  The exhibition will run from April 15 – May 13, 2006.  The gallery will host a reception for the artist on Saturday April 15th from 6-9PM.
Ryan Callis is hyper-aware of how it feels to be alive.  This awareness is deeply present in his new group of paintings.  Here he explores themes of isolation, human contact, and communication; specifically the way in which those issues relate to life in Los Angeles and its? neighboring suburbs.  He approaches these hefty concepts and infuses them with a palpable vibrancy.  The result is a group of paintings that is both contemplative and a great deal of fun to look at.
The interconnectedness of psychology and art motivates Callis to create his mixed-media paintings.  His interest in the brain, especially the cognitive development of his five-month old daughter, governs much of his project.  He paints with her in mind, focusing on moral lessons and color palates that will appeal to her.  In our current excess-based world, Callis attempts to slow down and filter thru, contemplating a beautiful and discerning view of our human condition.  His work inspires viewers to do the same.