KIMBERLY BROOKS: The Stylist Project, by Allison Gibson
March 17, 2010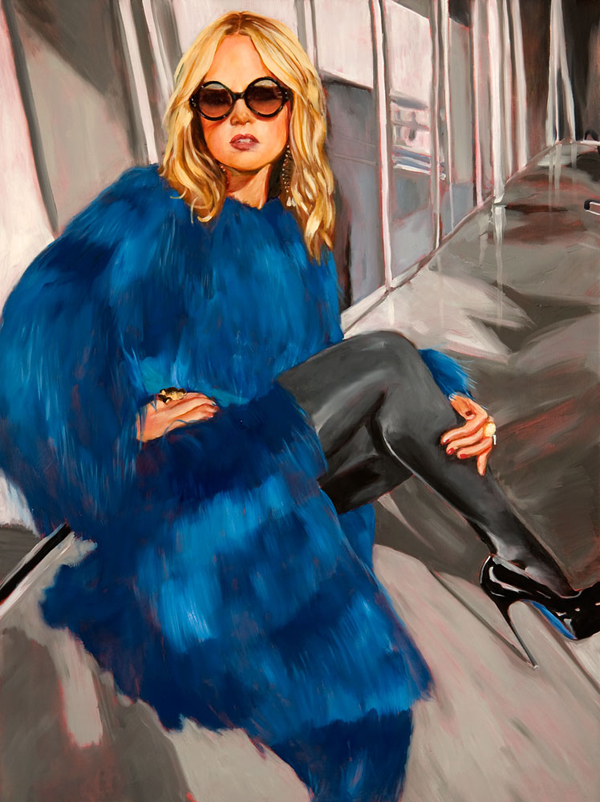 The art world. It's way more serious and important than every other industry! This thinking at least seems to persist even though the field of contemporary art has maintained an open flirtation with its sassy sister, the fashion industry, since long before even Andy Warhol trotted his wacky wigs around Studio 54 with the likes of Diane von Fürstenberg. There is a mutual fascination between the two fields, and yet it seems that the art world would prefer to keep its consorting with the fashion industry confined strictly to social events, rather than consider fashion (so low-brow!) as a worthy subject matter for actual works of art.
Los Angeles-based artist, Kimberly Brooks', current solo show at Taylor De Cordoba gallery in Culver City breaks with this norm to explore the intrigue of the fashion industry's most iconic stylemakers—without the precept of farce or condemnation. The Stylist Project (on view through April 3rd) presents Brooks' latest body of work—a series of oil painted portraits of fashion industry insiders, including stylist to the starts and Bravo TV fixture, Rachel Zoe, and award winning costume designer and Madonna's personal stylist Arianne Phillips, among others.
The work on view blends the fields of art and fashion astutely, presenting the fashionable set as they have styled themselves, while at the same time drawing upon the ages-old artistic tradition of portraiture. The regal positions of some of the sitters recall Renaissance royals, and the sprawled poses of others touch on the early Modern depiction of courtesans, such as Edouard Manet's Olympia…
Click HERE to see the full article.