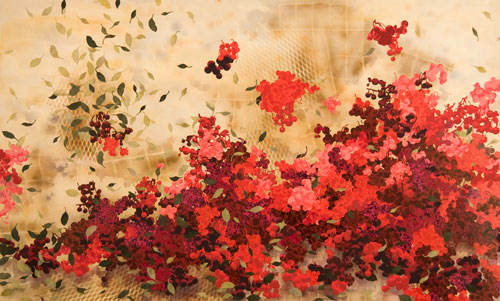 Charlene Liu: If It Were A Slow Echo
November 7 – December 19, 2009
Opening Reception: Saturday November 7, 6-8PM
Taylor De Cordoba is proud to present If It Were A Slow Echo, the gallery's second exhibition of works on paper by Charlene Liu. The exhibition will run from November 7 – December 19, 2009 with an opening reception for the artist on Saturday, November 7th from 6 – 8PM.
In her new works on paper, Charlene Liu continues her interest in the natural landscape, abstracting directly from overlooked and diminutive moments of growth and decay. Many of the works allude to the vanitas of Dutch and Renaissance still-life paintings. The show's title, If It Were a Slow Echo, recalls the transitory moments of sensory experience and the repetition of motifs that slowly weaves together patterns, lines, and color to the brink of chaotic excess. Combining collaged prints and traditional painting techniques, Liu layers, stains, and composes her paintings; interminably dissolving the transition between figure and ground. It's an unpredictable and slow reveal with the effect of a quiet, amnesiac sense of disorientation.
In this way Liu's work rocks back and forth between stasis and activity, order and entropy, becoming and receding. Her color palette operates similarly; in several works on paper, a subdued pastel palette resembles the color of an injury – a bruise or an infection, more than the onslaught of spring. Polka dotted hole punches appear as barnacles or parasites, traversing the picture plane at an exponential rate, bubbling and swelling in tandem with twisted brambles.
Born in Taiwan in 1975, Liu earned her MFA at Columbia University in 2003. Solo exhibitions of her work have been held at Shaheen Modern and Contemporary Art in Cleveland (2008), Taylor De Cordoba in Los Angeles (2007 and 2009), Virgil de Voldère in New York (2006), and Andrea Rosen Gallery, also in New York (2003). Liu is an assistant Professor at the University of Oregon, Eugene.