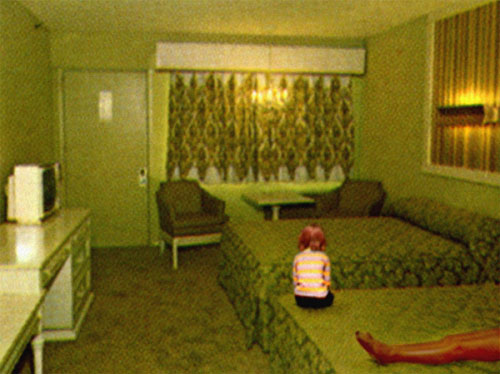 Mark Mann: Last Resort
April 21 – May 19, 2007
From April 21 to May 19, 2007, Taylor De Cordoba will present Last Resort, twelve cibachrome photographs by Mark Mann from his limited edition portfolio. Basing his images on Wish You Were Here postcards from the 1960s, Mann digitally alters the source material to create images that are at once creepy and familiar.  The gallery will host an opening reception for the artist on Saturday April 21 from 6 – 9PM.
The nuclear American family vacation provides the context for Mark Mann's pictures, depicting intrepid suburbanites as they make their way onto the highways and byways of America.  In Deep End, a coterie of swimmers at a motel pool gathers along the line of demarcation between shallow and deeper water, but the sheer number of swimmers and the somewhat blurred imagery make for an unsettling rather than recreational tone.  An eerie sense of mystery is the predominant motif in Screen, where a clothed figure stands hesitantly in the chair as he gazes into a TV set.  In Mann's fantasy world, the promise of fun and recreation is constantly being thwarted by something that is never shown but always suggested.
Mark Mann's work is in the permanent collections of the Los Angeles County Museum of Art, the Norton Museum in West Palm Beach, the Museum of Fine Arts, Houston and numerous private collections.