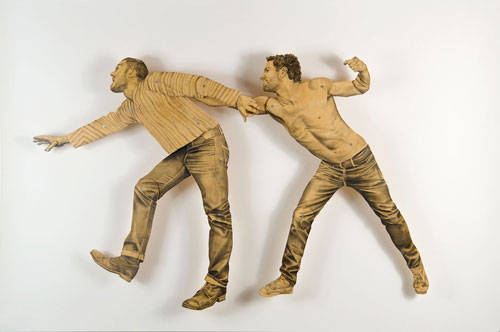 Claire Oswalt: Peril In Perfection
September 12 – October 31, 2009
Opening Reception: Saturday September 12, 6-8PM
"…. yet it is possible to see peril in the finding of ultimate perfection. It is clear that the ultimate pattern contains its own fixity. In such perfection, all things move towards death." – Dune, Frank Herbert
Taylor De Cordoba is pleased to present Peril In Perfection, a new series of sculptural drawings by New York-based artist Claire Oswalt. The exhibition will run from September 12 – October 31, 2009 with an opening reception for the artist on Saturday, September 12th from 6 – 8PM. This is the artist's second solo show with the gallery.
With her jointed figures made from wood and graphite on paper, Oswalt continues to explore the push and pull between control and freedom. In the tradition of puppets and marionettes, these pieces are designed to be controlled and moved, yet here the subjects appear abruptly frozen in the moment. The fixity of these otherwise aggressive, passionate, dynamic and often violent scenes suggests "the artist" as a master of manipulation and calculation. Although they are put into a position that lacks control, the puppets place their trust in the artist and subsequently the viewer.
While her previous body of work highlighted the vulnerability of adolescence, here Oswalt depicts scenes of aggression among primarily male adults. In one piece, two men violently wrestle each other and in another, a struggling subject is doubled over in pain. At first glance these images seem loud and explosive, yet by restricting their movement these moments become quiet places of ordered beauty.
Claire Oswalt lives and works in Brooklyn, New York. She was recently included in "Under The Knife," a group show at the Armory Center for the Arts in Pasadena, CA. Articles and reviews have appeared in Artweek, Angeleno Magazine and Paper among other publications.
Taylor De Cordoba is located at 2660 S La Cienega Blvd in Los Angeles, CA and is open from Tuesday – Saturday, 11am-6pm. For additional press information, contact Heather Taylor at heather@taylordecordoba.com or (310) 559-9156.