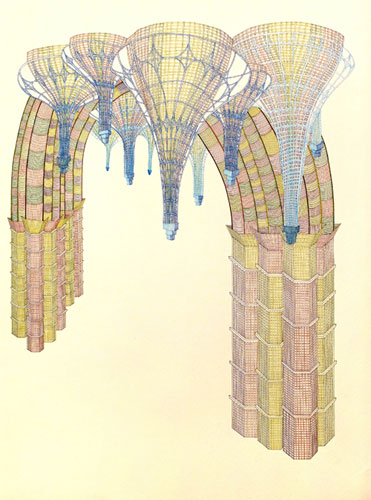 Melissa Manfull: Tesseracts
February 21 – March 28, 2009
Taylor De Cordoba is pleased to present Tesseracts, a new series of drawings by Los Angeles-based artist Melissa Manfull. The exhibition will run from February 21 – March 28, 2009.  The gallery will host an opening reception for the artist on Saturday February 21 from 6pm-8pm.
In this new group of unframed ink on paper pieces, Melissa Manfull creates impossible worlds and structures. Much like science fiction writer Charles Howard, who coined the word "Tesseract" (the four-dimensional analog of the cube) in the late 19th century, Manfull is interested in a reality beyond what we can see and understand in a 3-dimensional world.
Drawing inspiration from science fiction, gothic architecture and mineralogy, Manfull explores the conceptual and visual analogies between naturally occurring structures and those made by humans. Visually, her drawings of towers, arches and organic bursts are arrestingly beautiful and overwhelming in their obsessive detail. Thousands of tiny lines compose the architecture she imaginatively creates.
At once delicate and bold, the work straddles our notions of temporal reality. Are we looking at an existing metropolis, a futuristic utopia or a flashback to Victorian England?  Manfull is indeed influenced by Gothic architecture and pulls her muted palette of pinks, moss greens, blues and grays from Victorian interiors and textiles.
Melissa Manfull received her MFA from Concordia University Montreal in Canada and has exhibited her artwork at The Armory Center for the Arts in Pasadena, High Energy Constructs in Los Angeles, and Bourget Gallery in Montreal, among others.  She lives and works in Los Angeles.