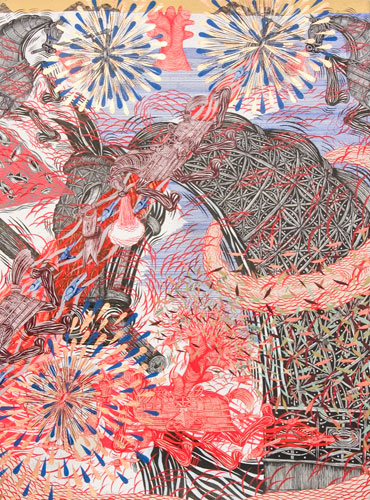 Andrew Schoultz: Loud and Quiet
December 2 – January 13, 2007
Taylor De Cordoba is pleased to present Loud and Quiet, a solo exhibition by San Francisco-based artist Andrew Schoultz. The exhibition will run from December 2nd, 2006 thru January 13th, 2007. The gallery will host an opening reception for the artist on Saturday December 2nd from 6pm-9pm.
In his first solo exhibition at Taylor De Cordoba, Schoultz presents a new series of drawings and paintings. Through the use of unexpected visual combinations, he critiques environmental crisis, economic inequity, war and political corruption. Schoultz takes cues from graffiti, folk art, medieval manuscripts and American currency to create his kinetic style.
In Loud and Quiet, Schoultz makes comparisons that immediately impress viewers with their dynamism and vitality, and on closer inspection offer a rich lexicon of enigmatic symbols: a horse gallops into the sky holding a decorated flag and carrying a tree with amputated limbs, a boat shaped like a house with an oversized telephone pole for a mast shoots rays and arrows, twisted birdhouses spiral into one another. Meticulous detailing, such as the ocean's surging waves and the horse's muscular legs, heightens the tension and sense of movement.  It is with this visual energy and layers of detailing that Schoultz delivers poignant commentary about the relationship between man and nature as well as the effects of globalization and capitalism in today's world.
Andrew Schoultz is the recipient of numerous awards and grants for his public mural works, which can be seen in San Francisco, California, Portland, Maine and Jakarta, Indonesia. He has recently exhibited at Jonathan LeVine Gallery, Boston Center for the Arts, and Morgan Lehman Gallery. Recent publications of his work include Art Week, Juxtapoz, San Francisco Weekly, Alarm, Nero Magazine, McSweeney's, and Dan's Papers. In October, he will release a book titled Ulysses: Departures, Journeys and Returns, published by Paper Museum Press.