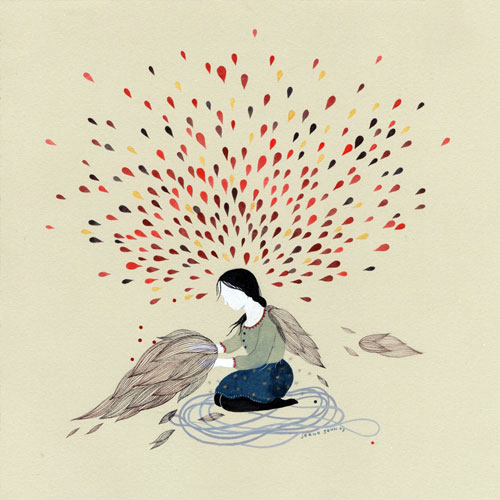 Jeana Sohn:  My Hands Are Crispy
December 15 – January 26, 2008
Opening Reception: Saturday December 15, 2007, 6-9pm
Taylor De Cordoba is pleased to present My Hands Are Crispy, a new series of paintings on panel and paper by Los Angeles-based artist Jeana Sohn.  The exhibition will run from December 15 through January 26, 2008.  The gallery will host an opening reception for the artist on Saturday December 15 from 6-9PM.
Drawing upon bedtime fairy tales, poetry, nature and modern graphic design, Jeana Sohn paints a surreal world where fanciful situations can instantly turn dark. In one piece a bowing girl carries an axe and chopped wood on her back as swarming moths surround her.  Another scene of a girl floating amidst giant blue leaves looks peaceful until we see that arrows pierce her back.  The tension between serenity and violence/aggression runs through these new paintings.
Sohn's work has always emphasized storytelling – a piece would typically be focused on a character, and a narrative would be implied by that character's non-specific, and hopefully poetic, interactions with animals, little pieces of nature, and graphic elements. In this new series, the work is also about her process of art-making.  Her intention was to let her hands create without her mind dominating the process. The title, My Hands Are Crispy, refers to the recent detachment she has felt from the process.  This body of work is the result of her struggle to overcome her out-of-shape and "crispy" hands and enter a meditative mindset.