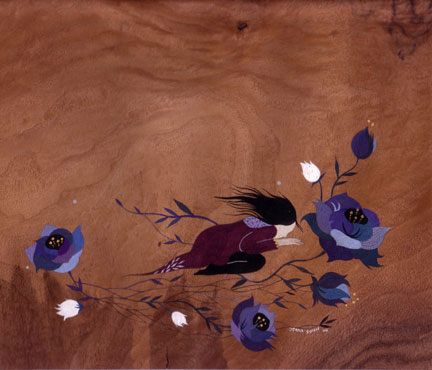 Jeana Sohn: I'm Just Pretending
October 21 – November 22, 2006
Taylor De Cordoba is pleased to present I'm Just Pretending, a new series of paintings by Los Angeles-based artist Jeana Sohn.  The exhibition will run from October 21 – November 22, 2006.  The gallery will host an opening reception for the artist on Saturday October 21 from 6-9PM.
Drawing upon childhood memories, dreams and her imagination, Jeana Sohn paints a surreal world where anything is possible. Among the scenes she depicts are a sleeping girl holding a string tied to the foot of a flying goose, a partially submerged boy and girl surrounded by giant moths, and a naked girl releasing a flurry of gold, blue and gray diamonds from her fingertips amidst a school of sharks.
Applying gouache and ink to woodblocks, veneer and wooden eggs, Sohn pays careful attention to the medium.  In particular, her works on veneer utilize the imperfections in the wood and the patterns in the grain as a background. The dark wood is a perfect complement to both her subjects and her palette of pale blues, vivid purples and muted grays and browns.
While sometimes layered and detailed, Sohn primarily reduces her images to silhouettes and background. Her two-dimensional approach to drawing allows her to strip away all unnecessary information. Though her style evokes the appearance of children's book illustrations, something darker underlies the obvious loveliness and simplicity. The viewer is left to decipher these visual puzzles and find their own meaning.