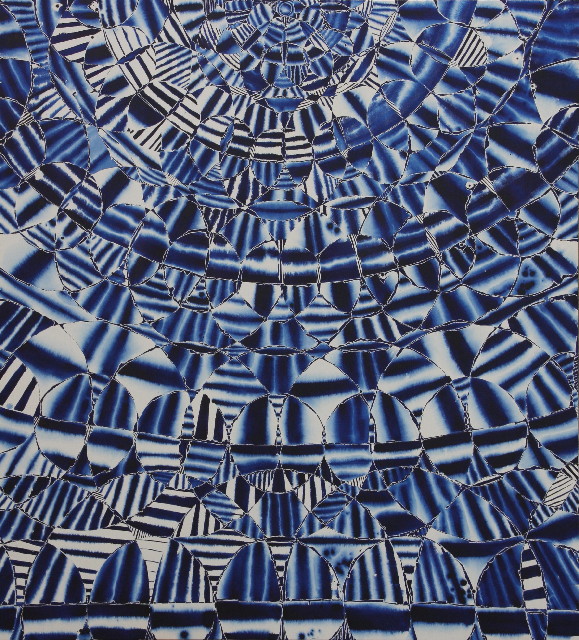 Hadley Holliday
Warp and Weft
February 25 – April 7, 2012
Taylor De Cordoba is proud to present Warp and Weft, a series of abstract paintings by Los Angeles-based artist Hadley Holliday. The exhibition will run from February 25 – April 7, 2012, with an opening reception for the artist on Saturday, February 25 from 6 – 8PM.
For Holliday's first exhibition at Taylor De Cordoba, the artist debuts a new series of acrylic paintings wherein she explores ideas of space and depth while referencing traditional craft. In striking shades of blue, Holliday creates psychedelic patterns of interlocking circles, which form arched, expansive spaces. The circles mimic overlapping lenses, with each section projecting a different depth of field and creating its own space within the whole. The effect of the pattern is dizzying but also serene, as the varying shades of blue evoke images of the infinite (both the sublime night sky and the mysterious yet inviting sea). Holliday references the history of abstract painting with a fluid style, seemingly pouring colors over the white of the canvas into lines, shapes and patterns. Here, the canvas' negative space is as important as the color, which rather than staining the canvas, forms a thin film on the surface.
The show's title, Warp and Weft is an allusion to the weaving, the ancient craft of making fabric by "interweaving" material into a series of right angles. In these paintings, the circles literally weave together into a pattern of geometric shapes. While creating this body of work, Holliday considered the mythology of weaving and the way in which the terminology has become associated with lofty themes of creation and change – spinning the thread of time, the fabric of the universe and yarn as synonym for a tall tale. By using one powerful color and repeating the simple circular shape, Holliday weaves a unique narrative, which invites the viewer into a meditative experience, not unlike the one Holliday enters during the process of painting.
Hadley Holliday lives and works in Los Angeles, California. She received her MFA from CalArts in 2004 and has exhibited at numerous galleries including Sam Lee Gallery (Los Angeles) and Solway Jones (Los Angeles). Reviews of her exhibitions have appeared in ArtWeek, The Los Angeles Times and Art LTD, among others.