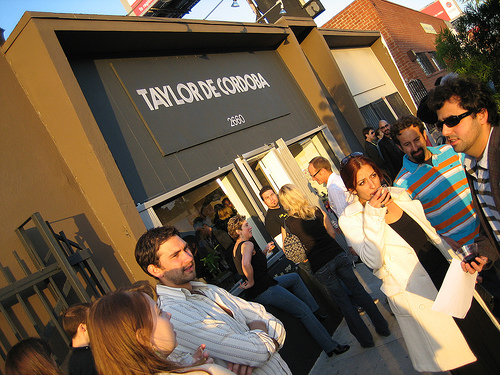 FIVE YEAR ANNIVERSARY EXHIBITION
April 9 – May 14, 2011
Taylor De Cordoba is pleased to present the 5 Year Anniversary Exhibition, a group show celebrating five years of exhibiting artwork in Culver City. The exhibition will run from April 9 – May 14, 2011, and will kick off with a champagne reception on Saturday, April 9 from 6 – 8pm. To commemorate Taylor De Cordoba's first five years and more than thirty past exhibitions, the gallery will feature one new piece by each represented artist, whose visions have shaped the face of the gallery. The selection of artwork will reflect the diversity of artists represented, including:
Sasha Bezzubov
Kimberly Brooks
Kyle Field
Timothy Hull
Charlene Liu
Melissa Manfull
Danielle Nelson Mourning
Chris Natrop
Claire Oswalt
Jeana Sohn
Frohawk Two Feathers
Taylor De Cordoba opened its doors to the public on April 15, 2006. Since then, the gallery has mounted over thirty exhibitions, participated in numerous art fairs, and launched a lauded bi-monthly reading series. Taylor De Cordoba and gallery represented artists have been featured in local and international publications, including: Frieze, Art in America, Artforum, Artweek, Art LTD, V Magazine, Elle, Vanity Fair, W Magazine, Los Angeles Times, The New York Times, LA Weekly, Beautiful Decay, C Magazine, Whitewall, The Huffington Post, LA Confidential, Angeleno and more. Los Angeles natives Heather Taylor and Alex de Cordoba co-own the gallery. Taylor De Cordoba is located at 2660 S La Cienega Blvd in Los Angeles, CA and is open to the public Tuesday – Saturday, 11am-6pm. For additional press information, please contact Heather Taylor at heather@taylordecordoba.com or (310) 559-9156.