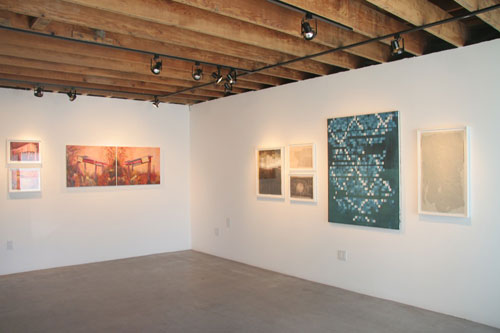 Interconsiderations: Josua Aster / Melissa Manfull / Jill Newman
Curated by Elise Barclay
June 30 – August 11, 2007
Humanity is moving deeper into crisis …a crisis brought about by cosmic evolution irrevocably intent upon completely transforming omnidisintegrated humanity from a complex of around-the-world, remotely-deployed-from- one-another, differently colored, differently credoed, differently cultured, differently communicating, and differently competing entities into a completely integrated, comprehensively interconsiderate, harmonious whole.
– R. Buckminster Fuller, from Critical Path
Taylor De Cordoba proudly presents, Interconsiderations: Joshua Aster / Melissa Manfull / Jill Newman, a group show of works on paper and paintings curated by Elise Barclay. The exhibition will run from June 30 – August 11 and the gallery will host a reception for the artists on Saturday June 30 from 6 – 9PM.
Written in 1981, Buckminster Fuller's Critical Path presciently and boldly lays out the dangerous state of the world while optimistically proposing conditions under which all of humanity might thrive. Affirming the power of the individual vision over the blindness of the herd, Fuller appreciates the parts that could comprise a "harmonious whole."
The art of Joshua Aster, Melissa Manfull and Jill Newman explores structures and physical space – the imagined, imposed and improvised. Despite their geometric inclinations these structures employ and even depend on accidents, coincidence, chance, spontaneity and imperfection. While each body of work stands on its own, the process by which the works and their content come into being seem models for the ideas set forth by Fuller, grand in scale and scope while remaining relatable, and within reach.
Aster creates luminous spaces within his works through his use of subtle layering of pigment and patterned brush strokes. The repeated patterning of marks suggests the structure of numerical codes, computer generated pixels, electronic displays and diagrammatic systems. Combined with of layers watercolor, sumi and acrylic ink, the works convey a sense of dissolution and consolidation.
Sites such as Salvation Mountain a few miles from Slab City in the low desert of Southern California, and the beleaguered South Central Farm in Los Angeles provide points of departure for Newman's oil paintings and works on paper. The physical spaces created within these communities, often consisting of "homemade" or spontaneous structures made from recycled materials and sheer necessity, appear in Newman's works as hallucinatory visions.
Manfull uses delicate lines of color which lead the eye into a dizzying architectonic web that simultaneously expands and collapses as the eye follows its impossible passages. The perfection of her draftsmanship suggests machine-generated patterns and reveals the fluidity of her approach. Her drawings become thought maps that evoke the organic and technological.