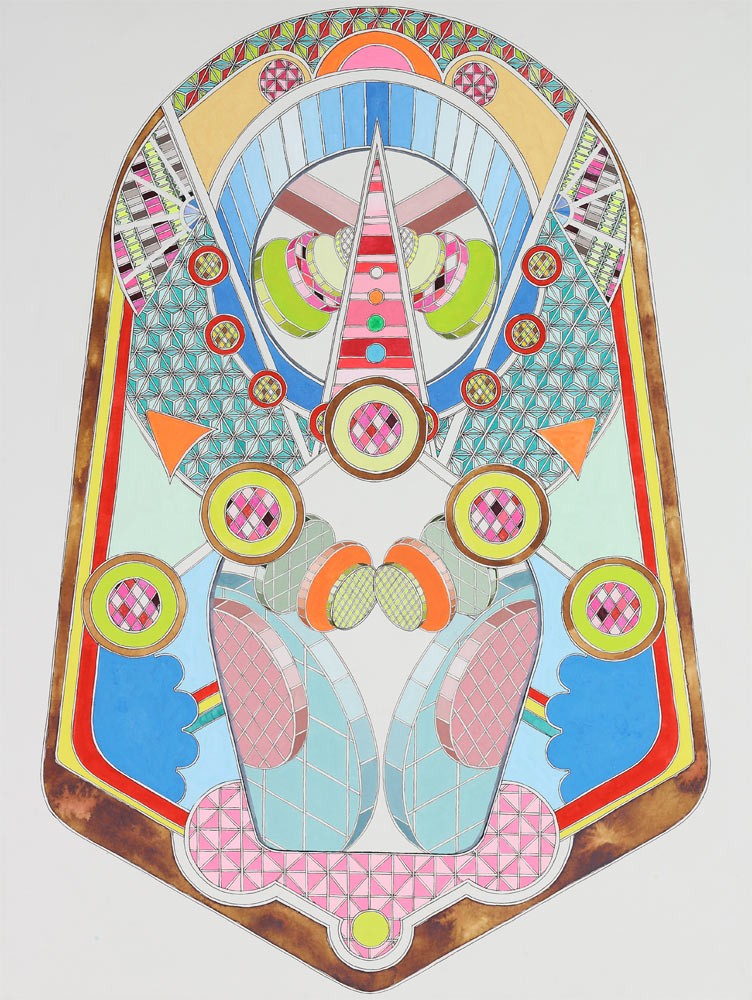 MELISSA MANFULL:  Schemata
November 2, 2013 – December 14, 2013
Opening Reception: Saturday November 2, 6-8PM
Taylor De Cordoba is pleased to present Schemata, a solo exhibition of new work by Los Angeles-based artist Melissa Manfull.  The exhibit will run from November 2 – December 14, 2013.  The gallery will host a reception for the artist on Saturday, November 2 from 6-8PM.
For her current series, Manfull continues to explore themes of control and chaos in her dense application of ink on panel. Her interest here is on game systems that create a psychological fixation, such as in gambling environments (pachinko), repetitive play machines (pinball) and board games. Incorporating the iconography from these games, the artist creates hypnotic patterns of hyper-detailed structures, enticing viewers into a visual trance, much like the addictive games themselves.
Manfull is interested in the discrepancy between the visual language of game design and the actual games being played, hinting at the arbitrary use of certain symbols and themes. Working with a fluorescent, playful palette borrowed from the games themselves, Manfull explores the simultaneously flat and three dimensional aspects of games, while creating her own visual world of conflating feelings and images.
Melissa Manfull received her MFA from Concordia University in Montreal and has exhibited her artwork at The Armory Center for the Arts in Pasadena, High Energy Constructs in Los Angeles, and Bourget Gallery in Montreal, among others. She lives and works in Los Angeles. This is her third solo exhibition at Taylor De Cordoba.