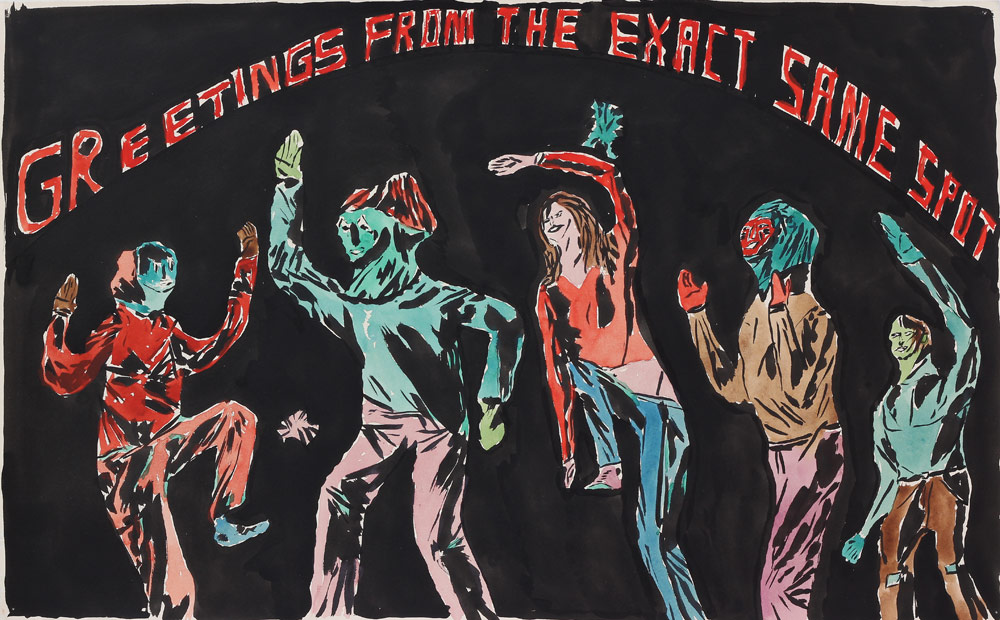 Kyle Field: Wide Daylight 
June 8, 2013 – July 27, 2013
Opening Reception: Saturday June 8, 6-8PM
Taylor De Cordoba is pleased to present Wide Daylight, a solo exhibition of new work by artist and musician, Kyle Field.  The exhibit will run from June 8 – July 27, 2013.  The gallery will host a reception for the artist on Saturday, June 8 from 6-8PM.
For this exhibition, Field presents whimsical paintings and drawings that closely relate to Little Wings, the artist's music project. Specifically, Field is thinking about his most recent album, entitled LAST. Choosing this title is emblematic of the artist's penchant for word play, which drives both his visual and musical arts. Is it the "last" album or an album that "lasts"?  His new drawings (which include original posters and album covers) are ambiguous and dreamlike, infused with poetic phrases that suggest a visceral idea yet lack any specificity.
Field's whimsical scenes are inspired primarily by the abstraction of myth peppered with references to the here and now. A face will appear innocent and childlike yet also stained with the wisdom of age. In one piece, five distorted figures are frolicking (dancing?) underneath a banner that reads, "Another Vague Greeting."  Field's process is organic –  rather than mapping out a plan, he allows one mark to build upon the next until a scene appears.  His palette of deep browns, pinks, teals, and emerald greens floats within a graphic layout of ink, watercolor, colored pencil, collage and even spray paint. To complement the works on paper, Field introduces several new mediums included ceramic hand-painted cups (in collaboration with local ceramicist Rebekah Miles) and a pair of wood burned clogs.
Kyle Field lives and works in Southern California. His work has been exhibited in numerous venues, including Atelier Cardenas Bellanger (Paris, France), Le Confort Moderne (Poitiers, France), The Palais des Beaux-Arts BOZAR, (Brussels, Belgium), Musée Janisch (Switzerland) Cinders Gallery (Brooklyn, NY) and New Image Art (Los Angeles, CA). He has been featured in Artnet, Artinfo.com, New American Paintings and Le Monde. He also performs as a musician under the name Little Wings. He received his BA from UCLA in 1998.