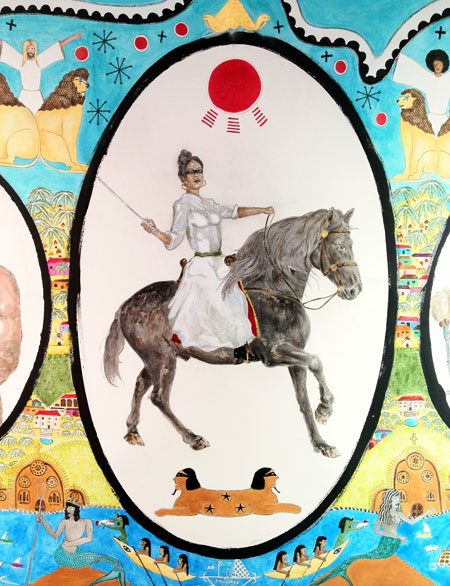 Frohawk Two Feathers
All Gold Everything. An Elegy
September 8 – October 27, 2012
Opening Reception: Saturday, September 8, 6-8PM
Taylor De Cordoba is pleased to present All Gold Everything. An Elegy, a new series of paintings on paper by Los Angeles artist, Frohawk Two Feathers. The exhibition will run from September 8 – October 27, 2012 with an opening reception on Saturday, September 8th from 6 – 8PM.
All gold. All gold anything. (x4) I want. I want everything.
All gold. All gold anything. (x2) All gold. All gold everything.
So begins Soulja Boy and Young L's 2011 hip-hop hit "All Gold Everything."  And so ends the final chapter of Frohawk's trilogy detailing the battles for and the eventual conquest of Hispaniola. Beginning in LA in 2011 and looping across the country to NY, Denver, and back to LA again, the story follows Andre Lafayette (a character loosely based on Toussaint L'Ouverture and Jean Jacques Dessalines) and his confederates as they eliminate (and co-opt) their former colonial masters, the Company Crocodile, and anyone who would stand in their way.
In his typical complex fashion, Frohawk weaves layered and at times clashing stories of falsified, glorified, and rectified histories that draw upon various traditions and religions, forming connections across time and geographical space.
Although still painted in his recognizable and signature style, the works in All Gold Everything. An Elegy highlight a brighter, more vivid, and tropical color palette of vibrant blues, yellows and lush greens.  Stylistically, Frohawk creates his own iconographic language, mixing Egyptian, Carib/Arawak, African, Pre-Columbian, and Abrahamic symbolism. This convergence of both domestic and imported religions and
cultural traditions results in a syncretism typical of Frohawk's graphic interwoven tales.
Works include "Let Me Upgrade Ya," and "Most Young Kings (The Death of Andre I)" demonstrating the artist's continuous vocal narrative and visual mix of all things current and past.
Frohawk Two Feathers has exhibited internationally with shows in Miami, Berlin, Los Angeles, New York, Washington D.C. and Cape Town. His work is currently on view at the MCA Denver for his solo exhibition We Buy Gold, We Buy Everything, We Sell Souls. The artist has been featured in myriad publications including Art in America, Los Angeles Times, The New York Times, Flaunt, New American Paintings and The Huffington Post, among others. He lives and works in Los Angeles.