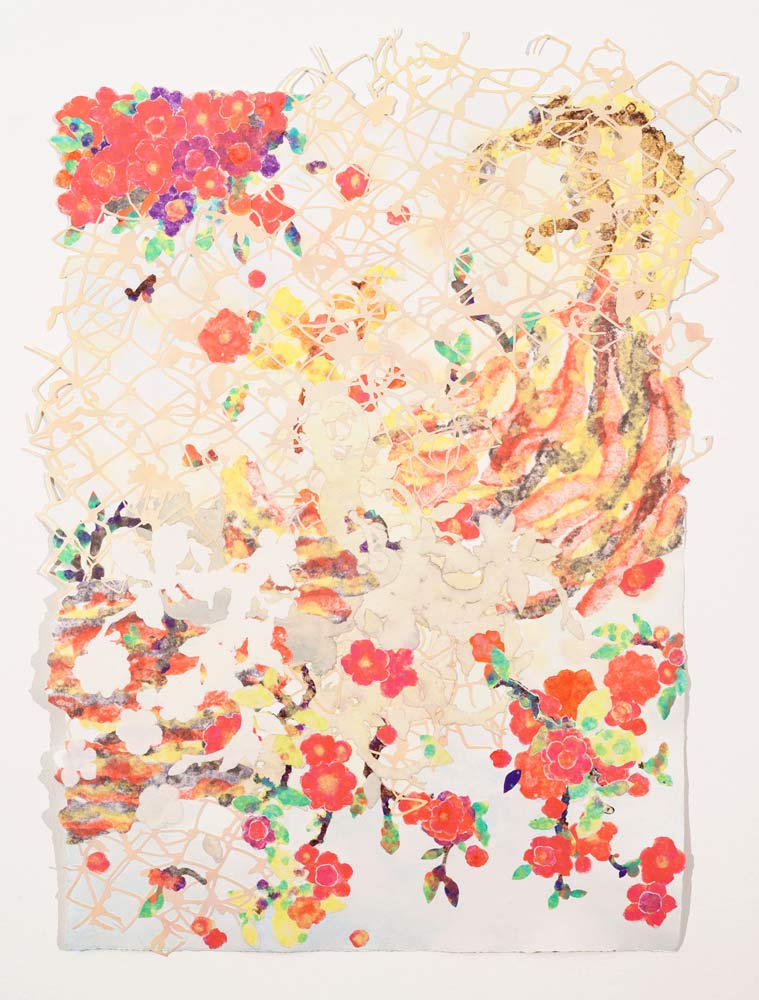 April 14 – May 19, 2012
Taylor De Cordoba is proud to present Everywhere Close To Me, Charlene Liu's third exhibition at Taylor De Cordoba. The exhibition will run from April 14 – May 19, 2012 with an opening reception for the artist on Saturday, April 14th from 6 – 8PM.
In her new body of works on paper and panel, Liu manipulates the medium of paper itself to create a series of beautiful yet unsettling abstractions. Along with acrylic airbrush, handmade paper is Liu's material of choice and she uses delicately pigmented papers to build her collaged works. Armed with an overtly feminine palette of pinks, peaches, mints and violets, the work oscillates between extreme beauty and the saccharin. Through a process of forming paper pulp into shapes and painting with pigmented pulp, Liu cultivates chance and embraces a stylistic looseness that playfully mines painterly traditions.
Drawing from the everyday of her domestic interior and backyard landscape, as well as, chinoiserie and decorative art objects, Liu repeatedly recasts and collides motifs until their specificity collapses and a new world emerges. Clustered plum blossoms lie tangled in a chain link fence as loose abstract marks float through a celestial backdrop. Swooping and drifting the imagery can't be contained, pushing through entangling lines and the confines of the rectangle. In the larger works, she subverts by piling up delicate motifs and details until they become dominating, even grotesque.
The combined elements create a pictorial space confounding ideas of ornamentation and desire, high and low forms, figure and ground. Repeatedly, Liu walks the line between celebration and critique, as she moves gracefully from imagery to abstraction. The result is a stunning series of imagined landscapes.
Liu lives and works in Eugene, OR where she is an Assistant Professor at the University of Oregon. Born in Taiwan in 1975, Liu received an MFA from Columbia University in 2003 and a BA from Brandeis University in 1997. Her work has been exhibited nationally and internationally, with recent solo exhibitions at Taylor De Cordoba Gallery (Los Angeles), Elizabeth Leach Gallery (Portland, OR), and Shaheen Modern & Contemporary (Cleveland, OH). Her work has been reviewed in the Los Angeles Times, the New York Times, and Flash Art International among others and is included in the collections of the Museum of Modern Art (New York), the New Museum (New York), and the Progressive Art Collection (Cleveland, OH).