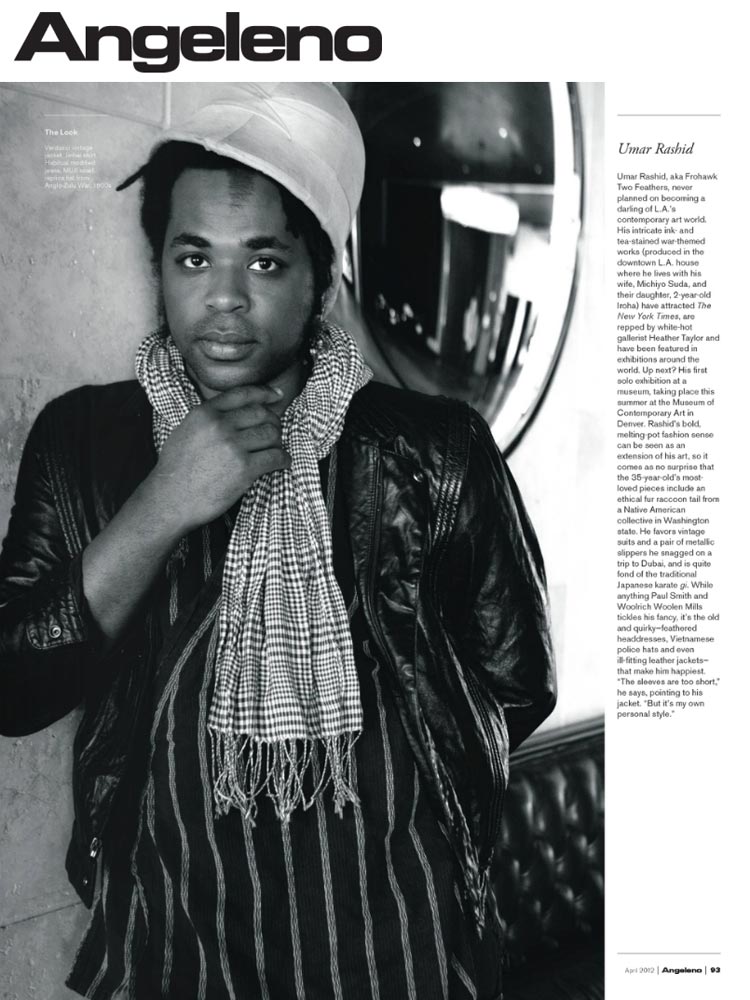 Frohawk Two Feathers is featured in the April 2012 issue of Angeleno, where he is highlighted in the "Men of Style" feature.
"Umar Rashid, aka Frohawk Two Feathers, never planned on becoming a darling of L.A.'s contemporary art world. His intricate ink- and tea-stained war-themed works (produced in the downtown L.A. house where he lives with his wife, Michiyo Suda, and their daughter, 2-year-old Iroha) have attracted The New York Times, are repped by white-hot gallerist Heather Taylor and have been featured in exhibitions around the world. Up next? His first solo exhibition at a museum, taking place this summer at the Museum of Contemporary Art in Denver. Rashid's bold, melting-pot fashion sense can be seen as an extension of his art, so it comes as no surprise that the 35-year-old's most-loved pieces include an ethical fur raccoon tail from a Native American collective in Washington state. He favors vintage suits and a pair of metallic slippers he snagged on a trip to Dubai, and is quite fond of the traditional Japanese karate gi. While anything Paul Smith and Woolrich Woolen Mills tickles his fancy, it's the old and quirky—feathered headdresses, Vietnamese police hats and even ill-fitting leather jackets—that make him happiest. "The sleeves are too short," he says, pointing to his jacket. "But it's my own personal style."
Click HERE for the complete article.