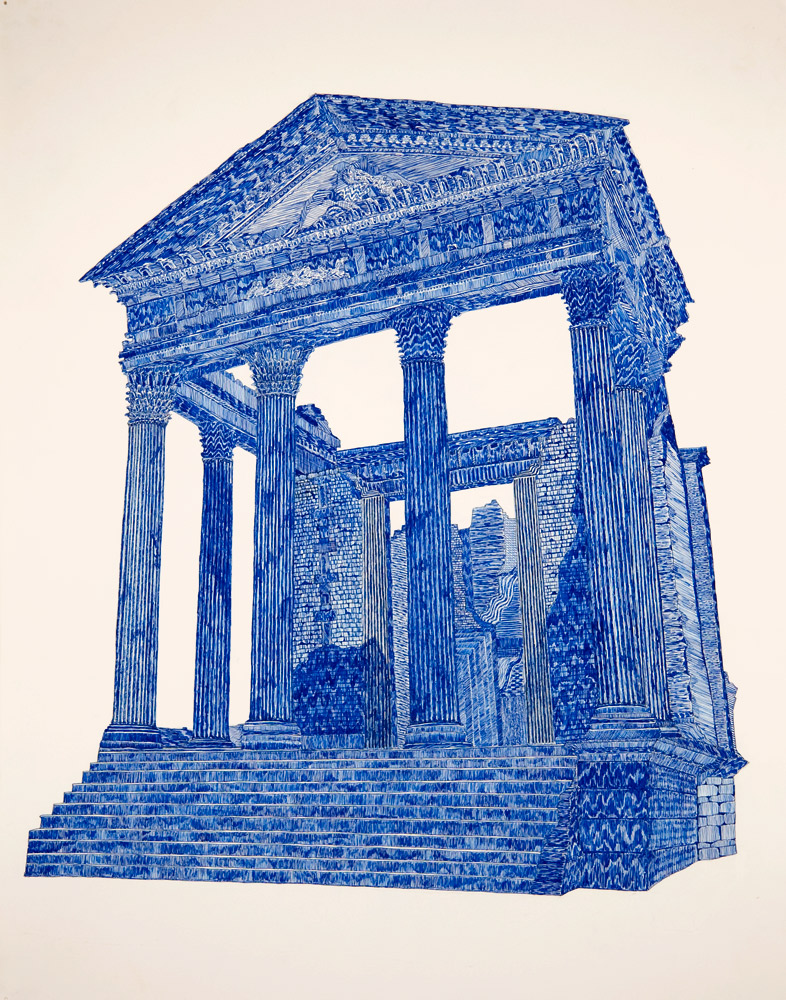 Timothy Hull: Here Today, Gone Tomorrow
May 21 – July 9, 2011
hodie adsit, cras absit
-Julius Caesar
Taylor De Cordoba is pleased to present Here Today, Gone Tomorrow, a solo exhibition by New York-based
artist Timothy Hull. The exhibition will run from May 21 through July 9, 2011, with an opening reception for the artist on Saturday May 21 from 6-8pm. This is his third solo show with the gallery.
Here Today, Gone Tomorrow consists of drawings, paintings and wall installations addressing the provisional nature of time and history. Hull's new work points to the fact that we exist in an eternal present and that what was, no longer is. In addition, the work explores ideas of representation, reproduction, cultural appropriation and recycling. Hull employs motifs from art history's distant past as well as from 20th century modernism; mixing and matching patterns, colors and styles that create links through time. The artist connects disparate points in time, such as pop culture imagery from 1980′s cause célèbre to rainforest patterns, Boy George, swatch watches, ruins from antiquity and museum displays as well as renaissance consort music. The artist presents many "doubles" or pairings, some nearly carbon copies of each other, and some similar but different. This is meant as a response to the philosophical questions raised by Aristotle and Thomas Aquinas on the nature of being and the essence of things, either real or imagined. The artist employs various artistic mediums, examining concepts such as travel, imperialism, Orientalism, west-meets-east and 1980's pop imagery. The juxtaposition of discursive imagery and messages from history asks the viewer to consider the factors that led us to this exact moment in time.
Since Timothy Hull's last exhibition at Taylor de Cordoba his work has been included in group shows in Milan, Italy at La Dictateur Gallery, Rome, Italy at the NOMAS Foundation and in Vienna, Austria at Co-Co. Hull also participated with the group K-48 in the collaborative exhibition "No Soul for Sale" at X-Initiative in New York and the Tate Modern in London. His work has also recently been featured in Flaunt magazine, Dossier Journal, Surface magazine and the New York Times. He has also conducted interviews with other artists for MUSEO magazine, Art in America and the Huffington Post. He recently published a collaborative book of photo-collages with Paul Mpagi Sepuya titled "The Accidental Egyptian and Occidental Arrangements." He lives and works in Brooklyn, NY.