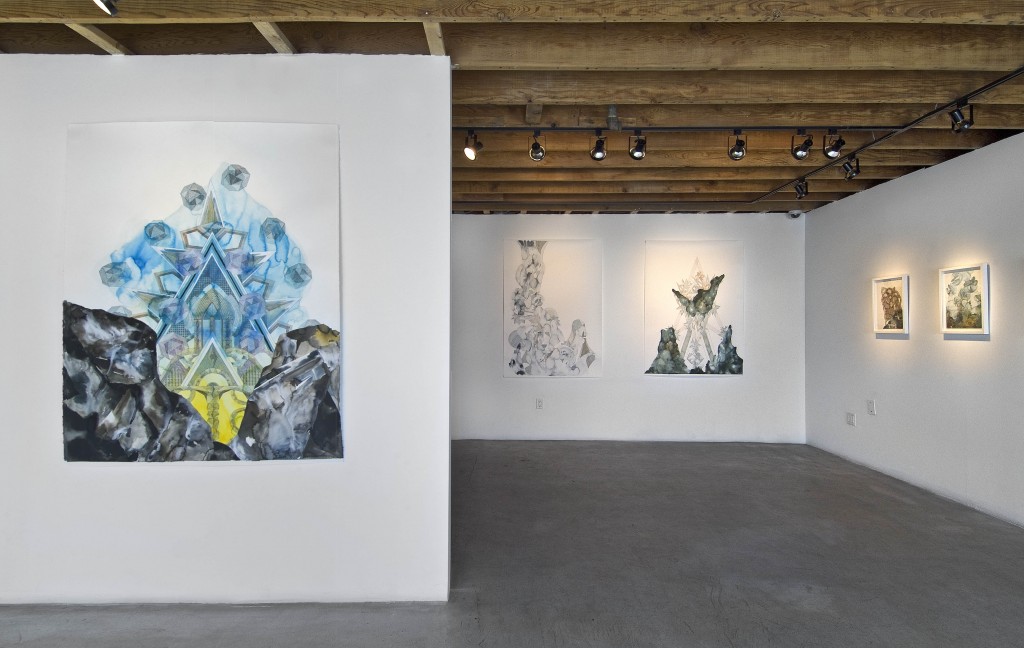 Melissa Manfull: Pattern Constraints
September 18 – October 30, 2010
Taylor De Cordoba is pleased to present Pattern Constraints, a new series of drawings by Los Angeles-based artist Melissa Manfull. The exhibition will run from September 18 – October 23, 2010.  The gallery will host an opening reception for the artist on Saturday, September 18 from 6pm-8pm.
Seeking inspiration from metaphysics and mysticism, Melissa Manfull creates hyper-detailed structures that straddle the worlds of reality and imagination. Working in a palette that ranges from the subdued and earthy to the mystical and otherworldly, Manfull inserts her stiff geometric shapes within pools of bleeding ink. Thus bringing to mind the idea of a building's lost limb, detached and floating in space.
The artist's interest in utopian societies and the ways in which architecture can reflect belief systems inspired these organic yet rigid drawings. And in some ways, the resulting structures, created by fractal patterning, reflect the artist's personal understanding of the intricate workings of the universe and the mind. Due to the obsessive nature of her process, Manfull has often viewed the meditative act of drawing as a way to approach her fear of vast, open ended space (the unknown). By creating her minute sculptural drawings, she gives this abyss a meaning and in essence, gains control. With her amorphous ink stains, she tries to mimic this emptiness rather than flight it.
Her musings on space are echoed by architecture theorist, Christian Norbert-Schulz, who discusses how buildings are an intermediary between sky and earth. This idea spoke to the artist's interest in architecture as a means to fill a void (empty space). Manfull's drawings, in which she attempts to occupy and define the uninhabited are a mediation on these themes.
Melissa Manfull received her MFA from Concordia University Montreal in Canada and has exhibited her artwork at The Armory Center for the Arts in Pasadena, High Energy Constructs in Los Angeles, and Bourget Gallery in Montreal, among others.  She lives and works in Los Angeles.