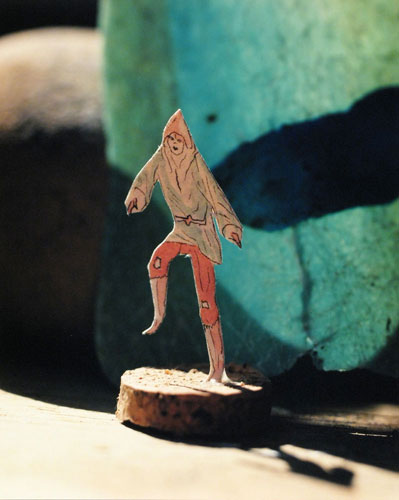 Kyle Field: More Country Questions
September 6 – October 25, 2008
Opening Reception: Saturday September 6, 2008 6pm-8pm
Taylor De Cordoba is pleased to present More Country Questions, a new body of ink and watercolor works on paper by San Francisco-based musician and artist, Kyle Field. The exhibition will run from September 6 – October 25, 2008.  The gallery will host a reception for the artist on Saturday September 6 from 6-8PM.
For his second solo exhibition at Taylor De Cordoba, Field explores the intersection of nature and commerce thru the convergence of personal experiences, inside jokes, imaginary creatures and imagined advertising. Frogs, snakes, worms, snails and turtles wander within a landscape of billboards, logos and symbols of commercialism. Taking in the visual (over)stimulation of the modern world and spinning it on it's head, Field absorbs content from all over, blending vague narratives that can be read in all directions. The effect is an elegant non-sequitor that manages to critique the aimless pursuit of false desires and goals that bombard us daily.
In "Rats In A Huddle", Field uses sports imagery to unravel the unquestioned importance of such activities. Imitating a television broadcast, the words "Video Superbowl Online" hang above a huddle of players with slogans on their jerseys reading "ready to take orders sir", "okay I can" or "Dad's Favorite Lineman." At the center, the coach instructs his players while holding a clipboard and wearing a headset. The coach can easily be a general, and the players can be soldiers, and the game can be war.
Field leaves it to the viewer to put the pieces together and form their own meaning. In other drawings, creatures act as fragile guides for us to navigate and disassociate from the background noise of consumer culture. Bumper stickers act as monuments of self expression and identity in in defiance of corporate (r)advertisement. It is precisely the gaps in meaning and explanation and visual incompleteness that make the work compelling. The effect is to remind the viewer of their own place in society, as a consumer of culture and a target of commercialism.