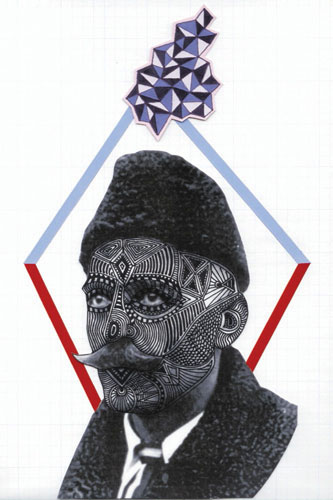 Timothy Hull: Life is Real Only Then When I Am
May 26 – June 23, 2007
From May 26 thru June 23, Taylor De Cordoba will present Life is Real Only Then When I Am, a solo show by New York-based artist Timothy Hull. The exhibition consists of paintings, works on paper, a scent and audio, relating to the world surrounding the mystical thinker and orator, G.I. Gurdjieff (1877-1949). The gallery will host an opening reception for the artist on Saturday May 26th from 6 – 9PM.
Through a wide range of media, Hull explores the dynamics of the cult of personality, the plausibility of esoteric knowledge, notions of orientalism, charismatic icons, diagrams and mysticism. He uses Gurdjieff as a symbol for the incidence of new age gurus and the search for 'truth' and 'reality' vis-à-vis Eastern knowledge in early Twentieth Century Europe. The work evokes a particular era and feeling, creating new associations either linked to or wholly inconsequential to the subject matter. The title of the exhibition is taken from the title of Gurdjieff's last book in the 'All and Everything' series.
Timothy Hull lives and works in New York City as well as on a family apple farm in Warwick, New York. Recent solo and group exhibitions in the past year include, Klaus Von Nichtssagend Gallery, Bellwether, ZieherSmith, Freight+Volume, CRG Gallery and Alona Kagan, all in New York City; BBS in Tokyo, Japan; and Bucheon Gallery in San Francisco. Hull was recently featured in issue 55 of Tokion Magazine.