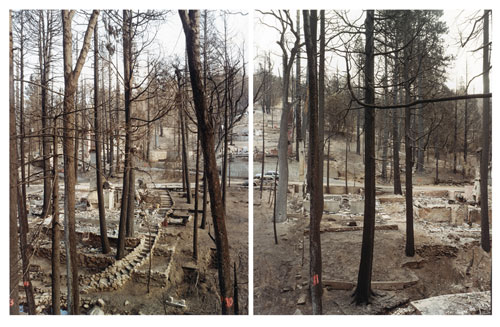 Sasha Bezzubov: Things Fall Apart
January 20 – February 17, 2007
Taylor De Cordoba is pleased to present Things Fall Apart, a solo exhibition by Brooklyn-based artist Sasha Bezzubov. The exhibition will run from January 20th thru February 17th, 2007. The gallery will host an opening reception for the artist on Saturday January 20th from 6pm-9pm.
This exhibition will include a selection of nine photographs from Things Fall Apart, a series of landscape photographs made in the aftermath of natural disasters. These mundane places are instantly transformed through the violent power of a climatic or terrestrial force, into dreamscapes of apocalyptic proportions. For a few days the world is glued to the images of the familiar turned upside down and made strange. Staggering numbers of dead and missing are reported. The property damage is calculated, the social and medical catastrophe is predicted, the increase of such disasters is mentioned. Soon the entire episode is forgotten in a sea of willful amnesia.
The aftermath of a natural catastrophe – ruined cities and settlements, wrecked homes and roads, scattered survivors – is how we imagine the end of time.
Things Fall Apart consists of five disasters – India after an earthquake, the Midwest after tornadoes, California after wildfires, Florida after hurricanes and Indonesia and Thailand after the tsunami. Arriving at each event after the fact allows Bezzubov to witness the destruction with a degree of distance. Using the form of landscape photography, a tradition born with industrial expansion, these photographs evidence nature's force as it reclaims land subdued and ruled by a myopic civilization.
Sasha Bezzubov is the recipient of numerous awards and grants for his photographic works, including two Fulbright Scholarship Awards for his work in Vietnam and India. He earned his MFA from Yale University in 1997. His work is in the collection of the Metropolitan Museum of Art, New York, and has appeared in Esquire Magazine, Newsweek, Details Magazine, The Village Voice and Blind Spot.